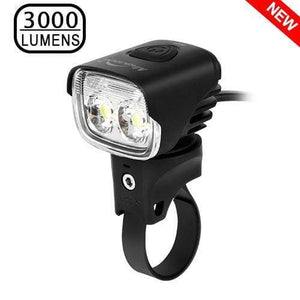 Magicshine MJ-902S Bike Light 3000 Lumens (E-bike compatible)
SKU:
MJ 902S
ISBN:
768607336211
Secured & Safe Checkout :

MJ-902S adopts brand new design conception, is able to produce perfect beam pattern for your nightly adventures and daytime safety riding needs, and can offer  compatibility with E-Bike's power system too (Bosch, Shimano, Yamaha, Broser).
Lumen:3000 (5700K)
Battery:7.2V 7000mAh
Waterproof:IPX 6
Runtime:1.5-42 H

Application: Bike,E-Bike; Road, Off-Road.
If conquering tough mountain trails, peddling through luscious forests at night is your thing, then you fully appreciate
the thrill of hardcore night time mountain biking. Here at Magicshine we are all about enhancing that experience.
Check out our latest, the MJ-902S. This powerhouse uses two super power efficient LEDs with a combined max
output of 3000 lumens. Equipped with high efficiency, high transmittance optical lenses, producing the perfect beam
pattern for your nightly adventures. Illuminating every obstacle in your path: rocks, roots, tree branches and water
puddles are revealed well in advance and in detail.
 
MODE:
HIGH
MID
LOW
ECO
DRL
Lumen:
3000LM
1500LM

1

0

00LM

450LM
25LM
Runtime:
 H=60min

1.5H

3

H

6.0H
14H
42H
E-BIKE MODE
Brightness VS Power
Limited Power(W)
Product Power (W)
Brightness
(LM)
10
4-8
400-1000
20
10-18
1800
30
20-28
2800
40
30-37
3000